Birth of Les Galants in the Nièvre
Originally from Paris, I was adopted by Niverne 40 years ago. I had wanted to move in "for good" in Puisaye for years.
I graduated from the Arts Déco school in Paris and was a graphist designer for 20 years in Paris. Then my dream of the countryside with stone houses and cabins in the trees finally materialized with the discovery of Les Galants in the beginning of 2012.
Trained as a designer, I conceived the perched nests myself. Because of its unusual shape, I needed to find a winning team to take on this challenge. Two young nearby carpenters, a tree climbing specialist and a forester guided me in this adventure. Others followed later on. It's with extreme pleasure that I will welcome you and share my passion et child dreams.
Xavier Malapert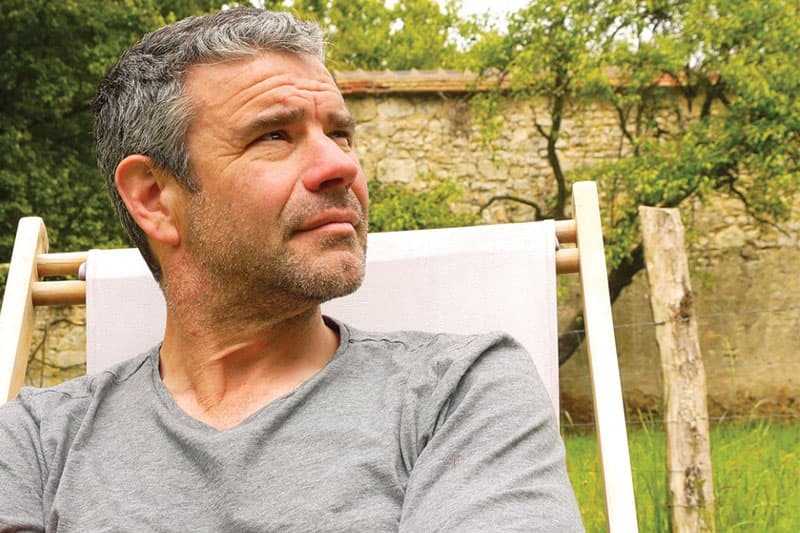 January 2012
A dream come true !
For 20 years I have been pursuing my dreams of castles, old stones, life in the countryside, huts in the trees… There, it's done !
June 2011, during a dinner at Pierre and Sébastien's house at the Poney-club de l'Espérance, one of their friends, Bertrand, told me about a property that would be for sale, very close to my family home, in the north of the Nièvre. The next morning, at dawn, I'm there. It's there ! Love at first sight. In 10 days the negotiation was successful. After a lot of adventures, mainly banking, I finally own Les Galants in January 2012.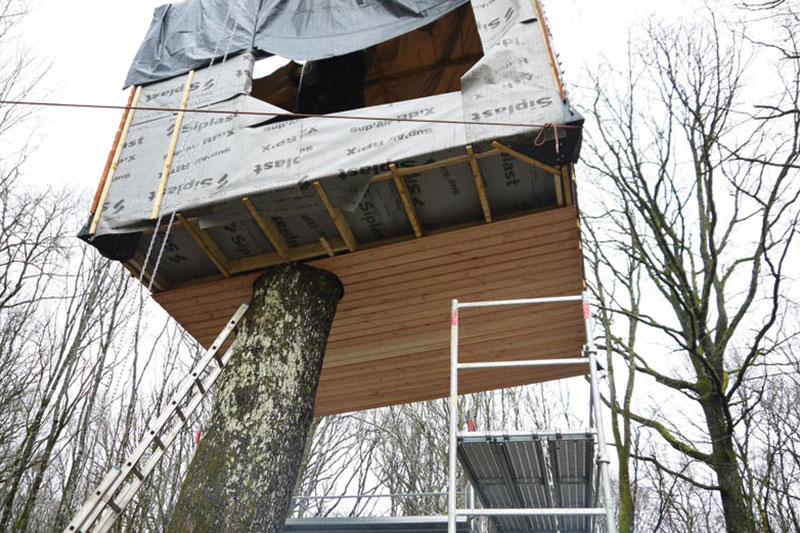 December 2012
Starting the work
First of all, I will design and build 4 cabins in the trees, cabins perched in bi or tercentenary oaks, in Les Galants wood behind the barn. The team has been together for a few months : Nicolas and Mapuche, two young carpenters and neighbours, specialists in wood assembly according to the rules of the art. Bertrand, forestry technician pruner. He is a specialist in tree climbing and will soon graduate to supervise this activity.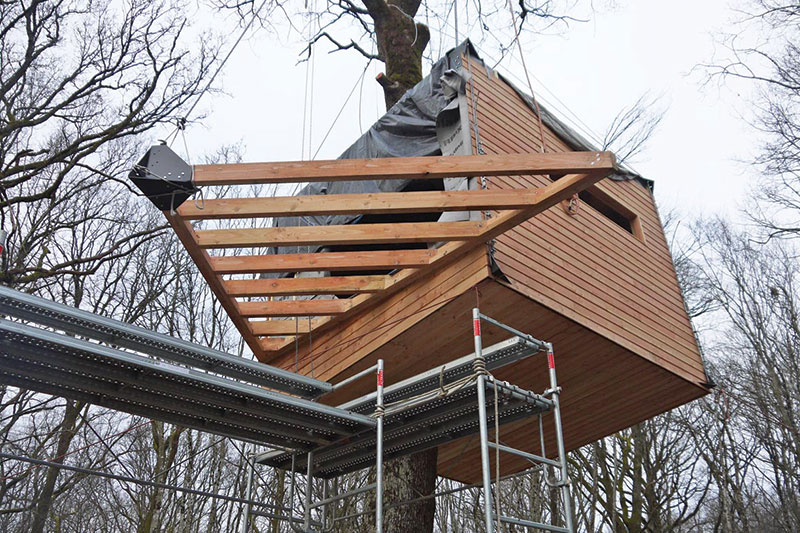 January 2013
The first cabin is hoisted!
We will raise our cube to its cruising altitude. First, it will have to be mounted using our 2 hoists. It will then be necessary to fix the cabin at the desired place (inclination, position in relation to the trunk…. Finally, we will fix the final cables that will support our cabin.
The appointment is at 8:00. We meet for a coffee. Are we going to be able to do that? Fortunately, we are "a team of shock", and optimism is in order. We do, we see, we rectify, we advise, we correct, we climb, we go down, we warm up, we pull, we screw, we climb up, we reheat, we discuss, we, we, we, we, … and finally, WE HAVE SUCCEEDED !!!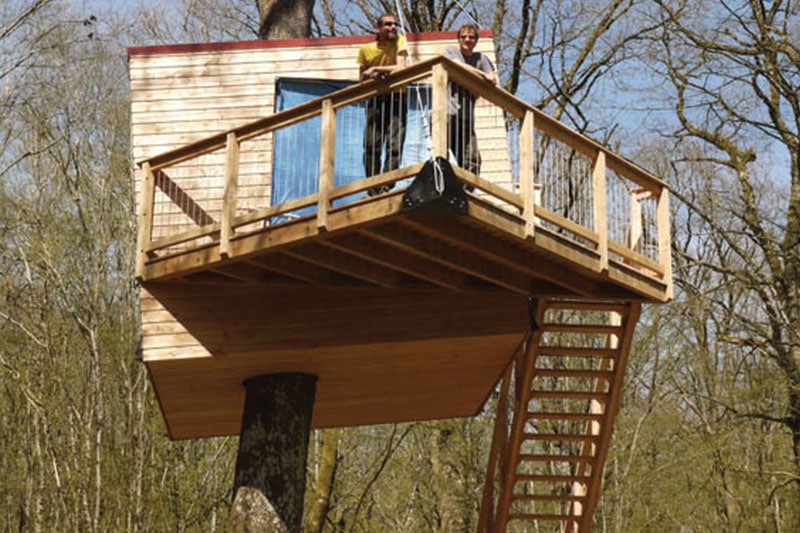 April 2013
A staircase for the Leaning Nest
Well, it's not at all to have a cabin, perched in an oak tree more than six metres high, but you have to be able to climb up there. Until then, it was to scale, but I quickly realized that it was a little complicated for cowards, and other victims of vertigo…
So I decided to build a nice and comfortable staircase to climb safely. My two shock carpenters, Nicolas and Mapuche, went back to work and here is the result ! The stairs are in solidarity with the cabin. As it was only suspended by cables, it was a little mobile when the wind blew. So the stairs stabilize her. However, it can be moved on the first bearing to accommodate the shaft's movements in the event of very strong winds.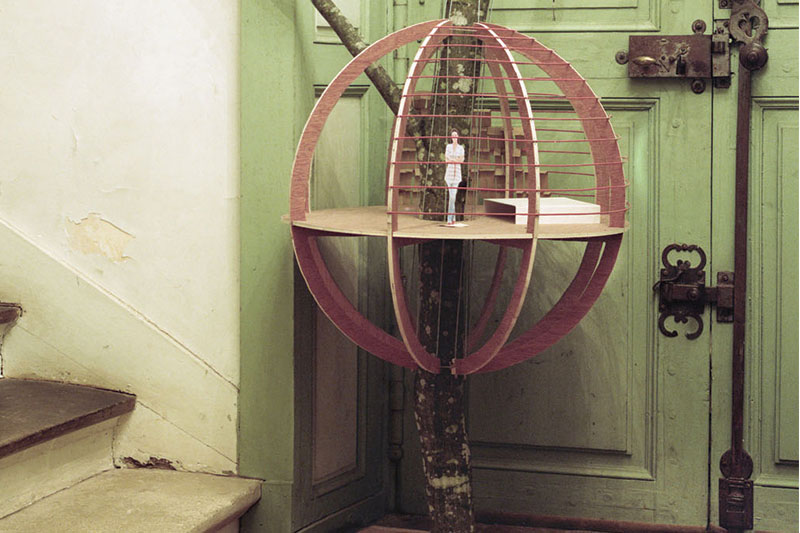 July 2013
Birth of the Realm Nest
A month and a half late,… a society in perdition (one more!) has blocked the beginning of this new adventure. Let's be philosophers, the earth wasn't made in a day… So, 45 days late is a drop in the bucket in a lifetime.
This second nest will be a sphere, as round as the earth. Its axis, like that of our planet, is not vertical, but inclined. The framework of the house is made of glued laminated wood (long Douglas slats glued together and shaped in a mould). Its diameter is 6.5 metres.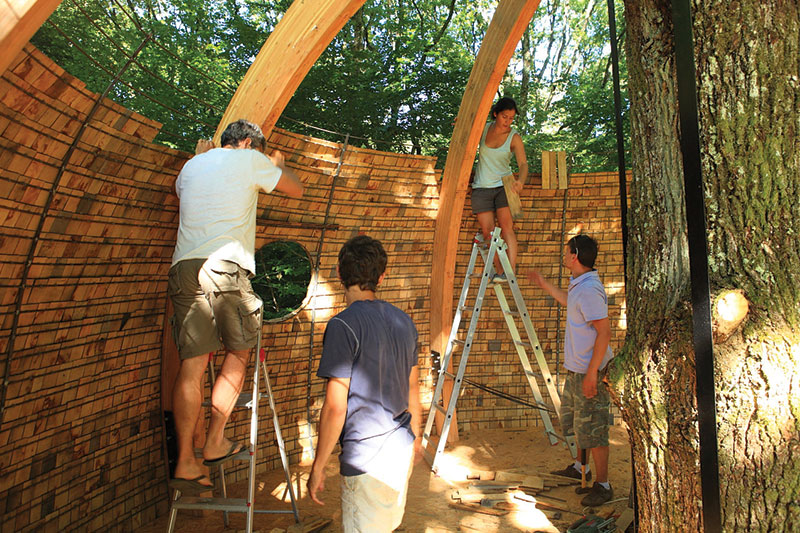 August 2013
A very well done project
Long term work. We will have 70 m² to cover, which means 210 m² of tiles (2/3 overlap). The metal structure gradually rises, the tiles are installed. The sphere is gradually rounding out. Teamwork. A group of enthusiastic young people surround me.So a little more patience to be able to stay there. The sphere will be designed for a small family: two parents, two children housed on the mezzanine. Electricity, insulation, interior lining, parquet, decoration,… A little more work to do,… and a lot of questions, nothing being very straight !!!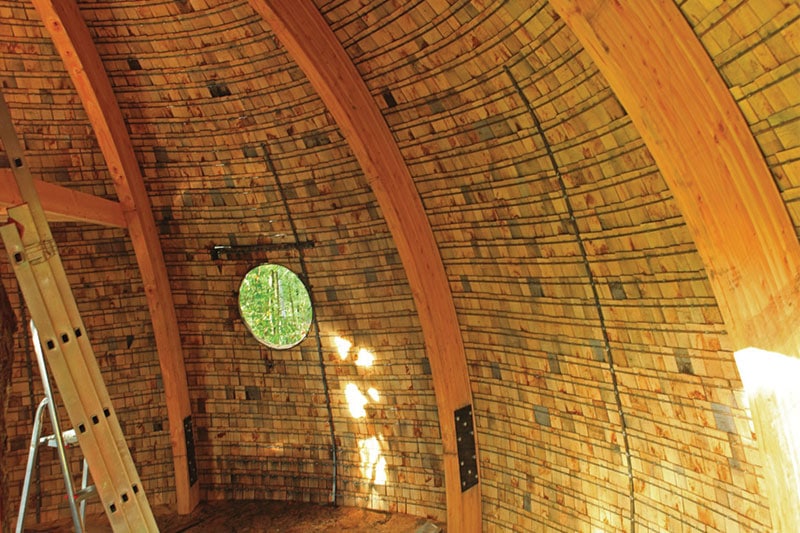 October 2013
The loop is closed !
The Realm Nest sphere finally deserves its name ! Now it is covered, protected from winter bad weather… The cover is finally mounted to the top of the sphere. The rags (oak wood tiles) cover 5/8ths of the structure. The remaining 3/8ths are in the open air as a terrace.
The bay window and a long vertical window were mounted, the two closed sides also covered with rams. So I'm safe to attack inside. The sphere is completely insulated by cotton (the same as for the tilted nest), does not make the Emmaus foundation. I then dressed him in panelling that I glazed. It was the best way to follow the curves of the sphere as closely as possible.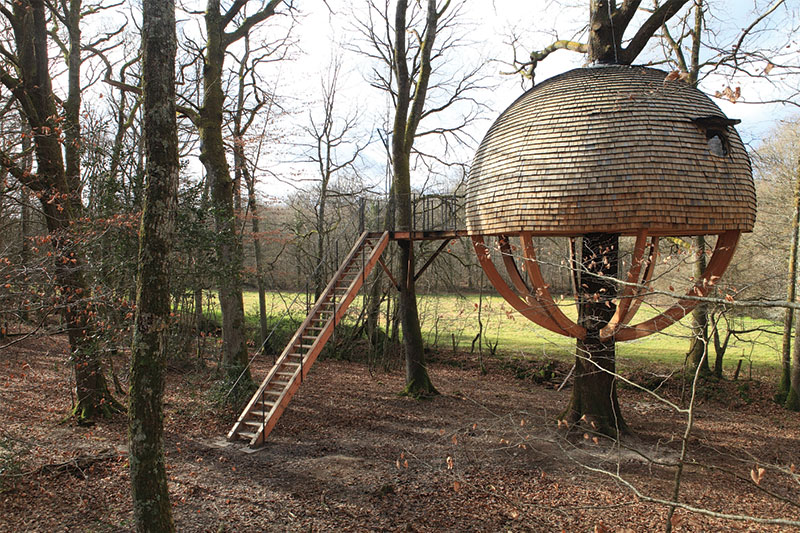 February 2014
Climb to the top of the nest
We made it leading to a platform docked to an oak tree just next to the sphere. From there, a footbridge, which will be liftable, leads straight to the nest. Since the trees did not have the same size at all, and therefore did not move in the same way, everything had to be mobile. The staircase is placed on the floor on two large cast iron plates. In strong winds, it slides on it. The footbridge can move horizontally in all directions in front of the platform to follow the movements of the trees.
After the stairs: his railings. All welded metal, to have a structure as light as possible visually speaking. It's all "homemade". Welding is not easy,… But it's starting to work!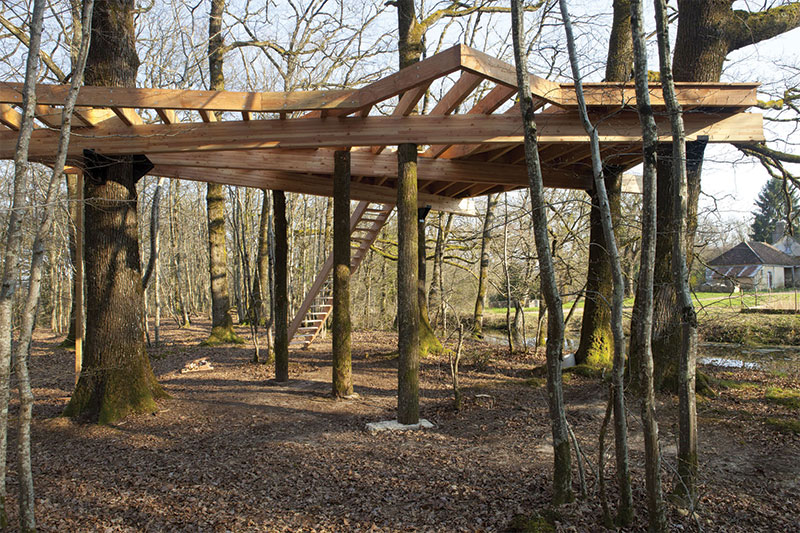 February 2014
3rd Perched Nest turn
This one will be a family one, two nests in one: for parents on one side, for children on the other… Everyone at home!
This nest will be accessible to people with disabilities, i. e. people in wheelchairs, via a handcrafted (but safe!) lift. A platform about three and a half meters high, on more than fifty square meters. This one will be built on four oaks. The main supporting structure consists of three glued laminated beams more than ten metres long. These beams are placed on metal shoes anchored in the trees, fixed firmly by custom-made lag bolts.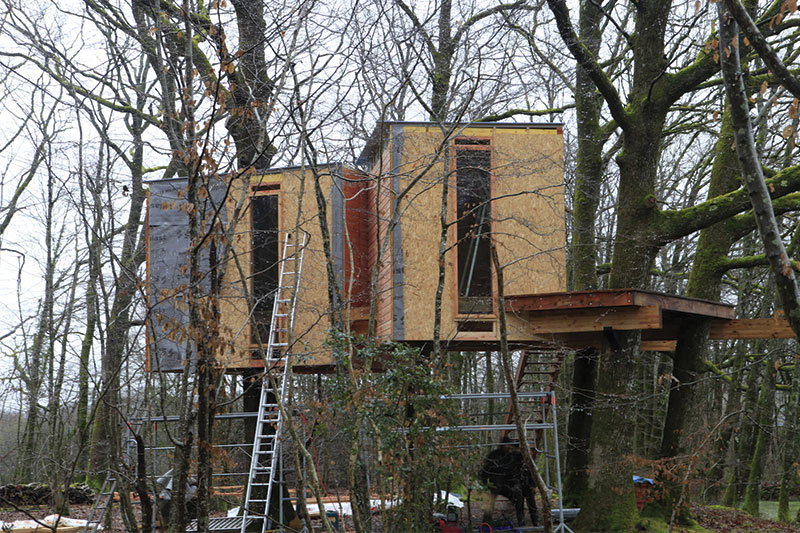 January 2015
Nest on Water Dressing Session
The two Nests finished, you have to dress them. Like the Leaning Nest, the cladding is made of Douglas fir. The main characteristic of this wood is that it is naturally protected against external attacks.
Time goes by, not always very beautiful in recent days. The rain makes circles in the water at the foot of the terrace of the Nest on the water… Both vertical openings were closed. Two beautiful and solid tiles! And the siding of the two Nests continues…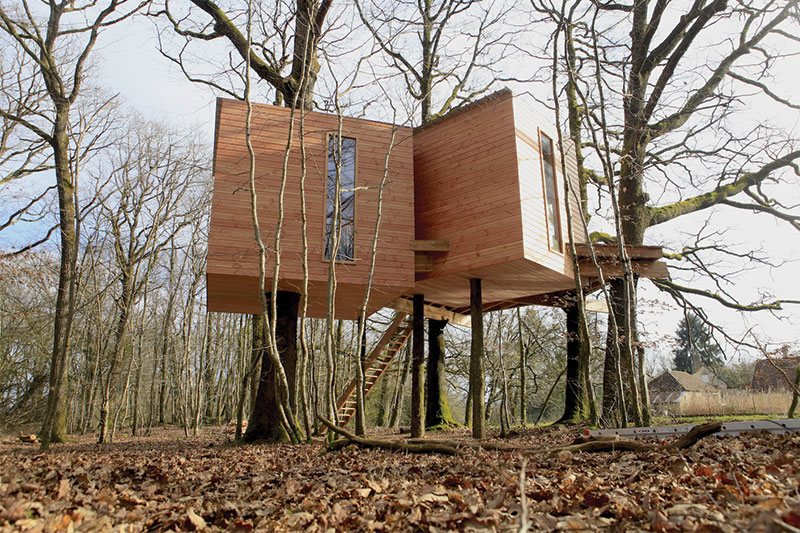 February 2015
It's my turn now....
And that's it, a successful step. My carpenter friends and I have finished "their part", it is up to me to play for the rest… Interior (insulation, electricity), decoration, furniture, terrace railings,… A lot of work to do for finishing at Easter!The two cubes are currently left in raw wood.
They will be painted using the same method as the Penthouse when the wood has stabilized and dried well. The sashes have not yet been delivered!
January 2012
A dream come true !
December 2012
Starting the work
January 2013
The first cabin is hoisted!
April 2013
A staircase for the Leaning Nest
July 2013
Birth of the Realm Nest
August 2013
A very well done project
October 2013
The loop is closed !
February 2014
Climb to the top of the nest
February 2014
3rd Perched Nest turn
January 2015
Nest on Water Dressing Session
February 2015
It's my turn now....