A domain dating back to the 19th century
Surrounded by greenery, hidden in the midst of the woods, I was built by an officer of Napoleon's Dragons.
It's in the year 1808 that Jean-Louis-César Deschamps de Bisseret, Napoléon 1st Dragon officer, built this house. The domaine De La Chaumière was composed of a master house, two adjacent houses – most probably for the servants – and a barn.
The so-called "Les Galants" woods are situated right behind, in that same place where the perched nests are today. The most probable explanation of the "Galants" name given to the master house was that one of the owners chose it, prefering it to "Chaumière". Aside from the new name, the house has mainly stayed the same and has undergone no major transformations.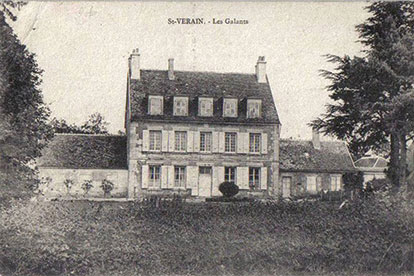 Much earlier, in the year 1000, not far from here, the Saint-Vérain barony became one of the most powerful seigneury of the North West of Nivernais. The middle of the XIIIth century was Saint-Vérain's most glorious days. Lord Hugues was then suzerain of 179 fiefdoms.
The village is a unique part of fortification left from a lost feudal city of the XIIth century, counting one of the oldest donjons in France. The city is ranked as one of the "historical monuments" of France since 1906. The Les Galants domain is a 10 minutes walk away from Saint-Vérain.
Domaine Les Galants is now an essential place to visit Burgundy. It also allows you to make an original stopover by staying for the night or the weekend in one of the unusual cabins nestled at the top of century-old trees.